In the current phase of the EU-funded HERMES project, Kiruna Wagon is constructing a demonstrator wagon and unloading station for ICL Iberia's salt transports in Spain. The objective of the project is to bring European rail freight to an unprecedented level of reliability, flexibility and productivity.
While rail freight transport has the advantage of being comparatively environmentally friendly, rail has lost much of the freight business to road transport due to its lack of flexibility. Other disadvantages associated with rail freight is the large costs involved in purchasing and operating freight wagons, and since rail transports can rarely be carried out door to door, one must also consider the cost, time and risk of transhipping.
While railway wagons have a long service life, normally 30 years, few companies can predict their transport needs more than ten years in the future. Since the acquisition of wagons involves a very high economic risk, it is only logical that the design emphasis lies on versatility rather than on specialisation. As a result, freight wagons are rarely optimal for their usage. When it comes to special cargo, rail transport is often not even considered due to the lack of suitable wagons.
Modular design and its advantages
A key to increasing the accessibility and attractiveness of rail transport against road transport is to develop smarter and more flexible freight wagons that allow a diversification of carried goods and that can be altered to function optimally in different conditions.
Based on the ideas of Kiruna Wagon's patent pending modular logistics system, the wagon developed in the HERMES project is using a standard chassis together with different, tailor made load carriers that can easily be exchanged, depending on the type of cargo to be transported.
The load carriers are designed for smooth transhipping between rail chassis made for different track gauges, and from trains to road trucks and ships, see the figure below. Loaded and unloaded load carriers can also be stored on the ground, while waiting to be shipped.
The full integration of rail freight wagons in seamless and effective door-to-door operations are measures that would increase the efficiency and competitiveness of rail freight considerably.
Dust prevention and effective unloading
In the HERMES project the focus lies on rail transport of dry bulk materials, more specifically the salt commodities of ICL Iberia (Iberpotash) in Spain. An important challenge for the design team is to identify solutions that will reduce dust emissions, especially during the discharge process. Most dry bulk commodities are prone to dust pollution and spillage, and this can have a range of negative implications for both the operator and the owner, both in terms of safety and environmental hazards, and also in direct economic losses.
The demonstrator wagon that is being developed is modelled on Kiruna Wagon's roofed Side Dumper wagon, which has side doors for effective unloading and effective seals that prevent the goods from leaking out or being exposed to rain or snow.
Because salt commodities have a low density, an important design criteria is to achieve the largest possible body volume per metre wagon. Also in this respect is Kiruna Wagon's Side Dumper, with its rectangular cross section, a superior option. A rotary car dumper has the same beneficial square cross section, but this type of wagon requires a costly unloading station to turn the wagons upside down. The Side Dumper Unloading Station is, in contrast, a very simple and low cost solution.
Combining industrial expertise with research capabilities
In order to develop a novel system for rail freight that meets the needs of the industry in terms of productivity, competiveness, effective operability, maintenance and costs, while at the same time being climate and environmentally friendly, the HERMES project is combining industrial expertise with advanced research capabilities. Nine partners from four countries are involved in the project, which is divided in nine work packages that are carried out in accordance with a well-structured work plan that aids in the completion of the project deliverables and milestones.
Bengt Bolsöy, Technical Manager at Kiruna Wagon, commented on the project:
"To fulfil our task of really taking a leap in sustainable bulk logistics, we are cooperating down to the smallest details of the wagon and the system. All partners in the HERMES project contribute with state of the art solutions and we are convinced that we will contribute to making Europe more competitive as well as more sustainable."
In the next step of the project, Kiruna Wagon's demonstrator wagon and unloading station will be tested in Catalonia in Spain.
Contact
Fredrik Kangas
Managing Director
+46 70 575 70 56
fredrik.kangas@kirunawagon.com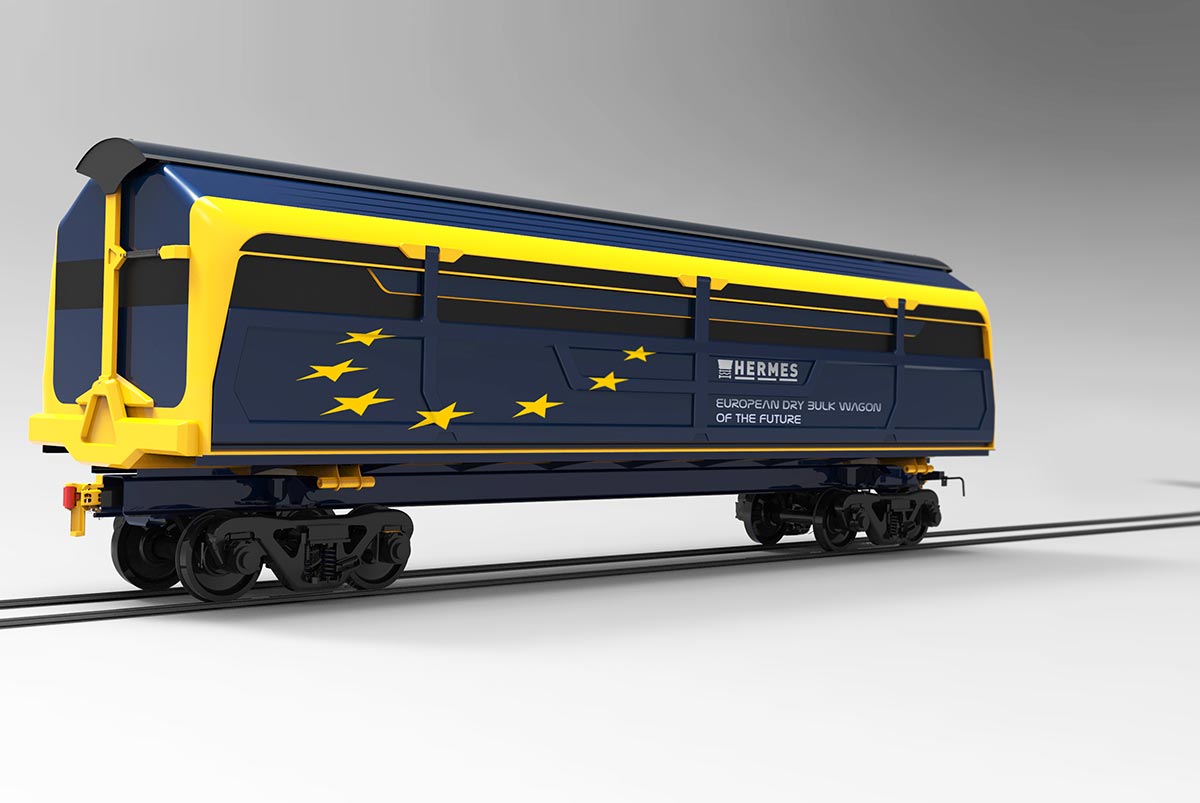 The demonstrator wagon being developed in the HERMES project is a roofed and sealed Side Dumper built on a modular chassis for quick transhipments.
This project has received funding from the European Union's Horizon 2020 research and innovation programme under grant agreement No. 636520.