Kiruna Wagon's new wagon, Side Loader XL, manufactured for market pulp producer Södra Cell Värö, lives up to its name. The entire 20-metre-long side opens vertically into a revolutionary large loading door that enables efficient loading of pallets or other cargo by wheel loader or forklift.
High-strength steel and a lightweight truss construction enable the entire three-sectioned length of the wagon to be opened hydraulically. The durable, flexible material tarpaulin is used for the outer surface, keeping the weight low.
"A large load opening such as this is revolutionary. Wagons of this type generally have sliding doors or support columns that limit accessibility and run the risk of being damaged," says Martin Malmelöv, Manufacturing Manager at Kiruna Wagon.
The development project for this new wagon type is a prime example of good close collaboration between Södra Cell Värö as customer and engineers at Kiruna Wagon. Strict requirements on efficiency and personal safety have given both the end user and the development team every reason to combine the best aspects of modern technology.
"If the railway industry is going to be attractive as an environmentally friendly alternative to road transport, loading and unloading needs to be highly efficient. With this wagon, you can remotely open the entire length of both long sides and access the goods in a way that just isn't possible in a lorry. It's also possible to unload entire train sets simultaneously. The large loading door creates conditions comparable to working in a warehouse," Malmelöv concludes.
This version of the Side Loader XL built for Södra Cell Värö has a total loading area of 51 sqm and a load weight of approximately 51 tonnes. Most EU countries limit the total size of lorries to 40 tonnes and 18.75 metres in length, which in practice allows for 33 sqm loading area and 24 tonnes of cargo. For lorries with trailers that are permitted in domestic traffic in Sweden, the corresponding figures are approximately 46 sqm loading area and a load weight of 36 tonnes.
The prototype will first be evaluated in operation before commencing serial production of 22 wagons.
Contact
Axel Malmström
Regional Sales Manager Nordics
+46 (0)70 269 52 20
axel.malmstrom@kirunawagon.com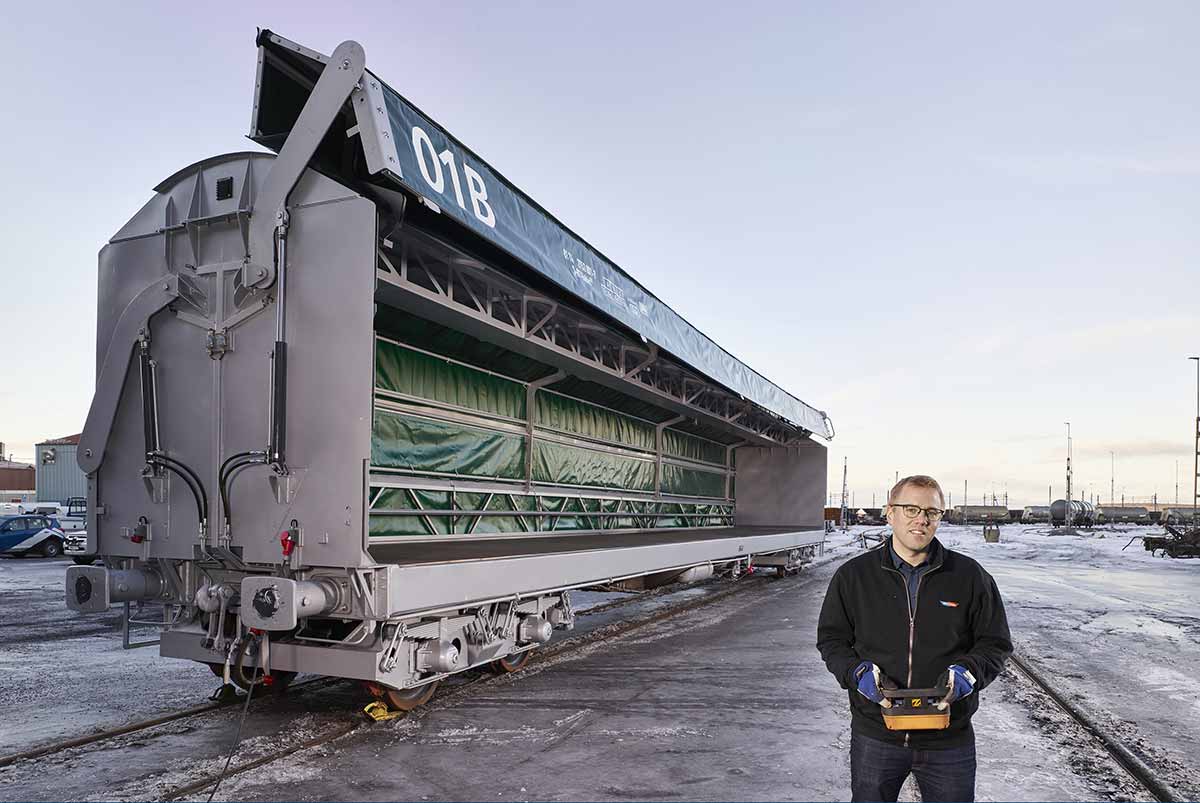 Martin Malmelöv, Manufacturing Manager at Kiruna Wagon, demonstrates remote-controlled vertical opening of the entire side of the wagon.