Press release November 21, 2022
Kiruna Wagon signs agreement with LKAB for new production and refurbishment of ore wagons

On the left, a wagon previously modified for transporting fine-grained material. On the right, wagon number 1000 of the approximately 1200 F050 pellet wagons in LKAB's wagon fleet.
Kiruna Wagon has signed a contract with LKAB for the production of 100 new ore wagons and for the refurbishment and restoration of 92 existing wagons. The project involves both an expansion of the mining company's entire wagon fleet and the modernisation of existing wagons for continued use.
Since the start of construction of the F050 Bottom Dumper wagon for LKAB in 2005, Kiruna Wagon has produced over 1200 wagons. At first in cooperation with the company Kockums Industrier, but since about ten years as a sole operator. LKAB is now adding 100 new wagons to its fleet for the transport of iron ore pellets, and once more, Kiruna Wagon has been entrusted with this task.
In addition to this new production, 92 Uadk and Uadk RF Bottom Dumpers will also undergo refurbishment and restoration for continued operation for many years to come. The 92 wagons are currently in various states of repair, but by the time the project is completed they will all have modern stiffened cargo baskets and bottom hatches fitted with stainless steel sliding doors. This ensures smooth unloading of raw material consisting of moist, fine-grained ore sludge, with stainless steel plate surfaces providing less risk of sludge getting stuck during the discharge.
"The ore wagons that Kiruna Wagon builds for us are of very high quality and reliability. This is essential, because LKAB accounts for around 45 percent of all rail transport in Sweden, measured in tonnes. With this new order, we have ensured sufficient capacity for continued deliveries of our iron ore products," says Linda Bjurholt, Logistics Manager at LKAB and CEO of LKAB Malmtrafik.
For almost two decades, wagon projects of this scale have made it possible for Kiruna Wagon to develop its products and expertise.
"An order like this, worth several hundred million SEK, is of course significant, not only for Kiruna Wagon, but for the entire private industrial sector in Norrbotten. Thanks to continued trust from our strong base industries, we have built up a product portfolio of globally unique wagons," says Thomas Persson, Chairman of Kiruna Wagon and of the GMK Group, which owns 50 percent of Kiruna Wagon.
Currently, Kiruna Wagon has licensing agreements with an Egyptian and an Australian company that sell these Swedish wagons in their regions. At the same time, negotiations are underway with further licensees in other parts of the world.
"As a Norrbotten entrepreneur, I am proud and thrilled that we serve both LKAB and other renowned wagon customers in Sweden and worldwide, and to see how this creates jobs in Norrbotten," concludes Niklas Pääjärvi, CEO and co-owner of the NMV Group, which owns 50 percent of Kiruna Wagon.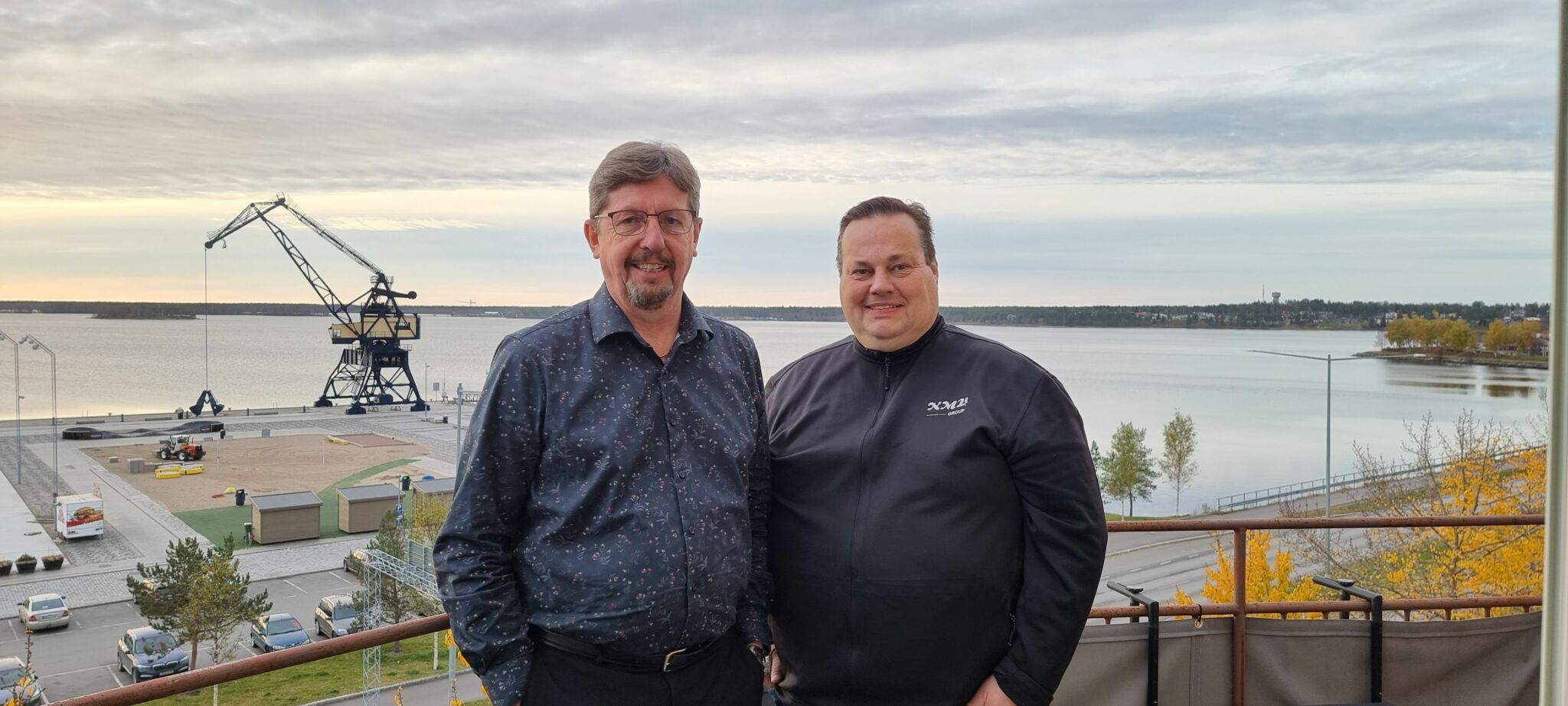 The GMK Group and the NMV Group are joint owners of Kiruna Wagon. Thomas Persson (left) is Chairman of both Kiruna Wagon and the GMK Group, and Niklas Pääjärvi (right) is CEO and co-owner of the NMV Group.
Contact Kiruna Wagon
Fredrik Kangas, CEO
070-575 70 56
fredrik.kangas@kirunawagon.com
Press images
Images in high resolution are available for download via Dropbox:
https://www.dropbox.com/sh/0g3804u14d4irx0/AADww01qQ_RHVR-WeU9q0Ld5a?dl=0
Captions
Both wagon pictures together:
On the left, a trolley that was previously rebuilt for transporting fine-grained material. On the right wagon number 1000 of about 1200 pellet wagons model F050 in LKAB's fleet.
The silver wagon – KW image product BD UADK LKAB (picture by Fredric Alm):
One of LKAB's UADK wagons that was previously rebuilt for the transport of fine-grained material.
The Yellow Wagon – KW_bild_produkt_FAMMOOR_050_vagn1000:
Wagon number 1000 of about 1200 pellet wagons model F050 in LKAB's fleet.
About the company
Kiruna Wagon develops and manufactures world-leading bulk and freight wagons as well as loading and unloading systems. Apart from production, we also work with terminal service and maintenance of wagons. Since our foundation in 2004, we have delivered wagons and unloading systems to customers such as LKAB, Boliden, Kaunis Iron, Trafikverket, EuroMaint, Tahawy Rail in Egypt and Rana Gruber in Norway. The company is owned by the industrial groups NMV Group and GMK Group. www.kirunawagon.com