Kiruna Wagon has been awarded the Swedish Steel Prize 2017 for the groundbreaking Helix Dumper wagon system, which offers a completely new technology for the unloading of fine-grained minerals.

"Kiruna Wagon has been working with high-strength steel since the start in 2004 and we see ourselves as an ambassador for the technology. To one day win the Swedish Steel Prize has been a dream for us, and we are very honoured to receive such great recognition today. We would like to thank Northland and Robert Näslund and Willy Sundling, who had the courage to invest in this new and revolutionary technology. We aim to continue to be at the forefront of utilising the latest steel and joining technologies in heavy rail transport," said Fredrik Kangas, Managing Director of Kiruna Wagon.
High-strength steel has been used both in the wagon and in the unloading station and distinguishing features of the system is low weight, high payload and a robust and durable unloading system that can operate at a speed of 25,000 tonnes per hour, i.e. twice as fast as other systems for fine-grained ore materials.
During discharge, the body of the Helix Dumper rotates 148 degrees while the chassis remains on the rails. The rotation is powered by the locomotive's forward motion and the unloading process requires no extra energy. Coupled with the rounded shape of the body, the rotation creates optimal conditions for efficient discharge of even the stickiest concentrate materials that would otherwise tend to cling to the wagon.
The Swedish Steel Prize was awarded at a ceremony at the Stockholm Waterfront Congress Centre on Thursday, May 11. The other nominated companies were Fermal from South Africa, JMG Cranes from Italy and Wabash National from the United States.
The Swedish Steel Prize Jury motivation:
"Kiruna Wagon has developed an innovative dumper wagon system for long-haul railroad transportation together with efficient unloading of minerals. Use of advanced high-strength structural and wear-resistant steels made possible the design of light cars combined with a stationary Helix terminal for on-the-fly rotary unloading. With its nearly doubled unloading rate, the Helix system is superior to all conventional solutions and solves many problems related to sticky aggregates. The investment cost for the terminal system is significantly lower. "
Contact Kiruna Wagon
Fredrik Kangas
Managing Director
+46 70 575 70 56
fredrik.kangas@kirunawagon.com
Contact Swedish Steel prize
Viktoria Karsberg
Director External Communications
+46 8 454 57 34
viktoria.karsberg@ssab.com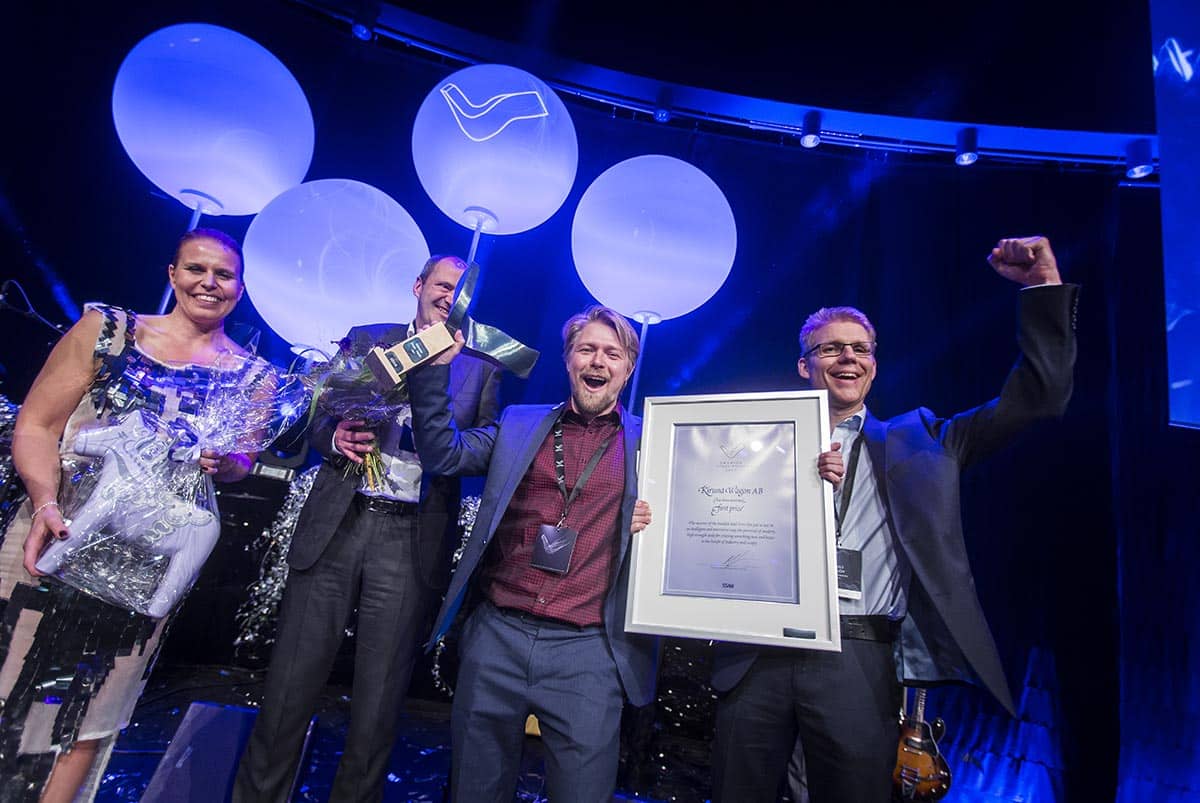 The Swedish Steel Prize was awarded at a ceremony at the Stockholm Waterfront Congress Centre on May 11, 2017.